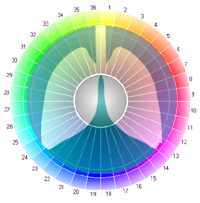 Colour Theory 101
#1-Science Of Colour
Light travels on waves at @ 186,000 miles per second. Remember 7th grade science class?

The 7 Rainbow Colours is light split into different wavelengths, vibrating at different speeds and frequencies. At the red end they are vibrating longer at 700nm/per sec. penetrating deeper and feeling warm to the skin as in summer, when the days are long, nights are short,the growing season is On, the weather is warm and the sun is Hot. At the violet end of the light spectrum, they vibrate faster shorter and cooler at 400nm/per sec. penetrating less deep, leaving the skin feeling cool as in winter time the nights are long, days are short, and the weather is Freezing. On each side of this visible light spectrum there is still lots of wavelengths we can not see: like Infared rays and microwaves vibrating long on the red side and ultraviolet rays, x-rays, and gamma rays vibrating very fast and all are not visible to the human eye. An object that absorbs all wavelengths and does not reflect any is called: Black. An object that reflects everything is called: White We best associate the 7 colours of the rainbow with Sir Issac Newton in 1866 through his prism Experiment as when he shone the sun through the prism it reflected all 7 colours and when inverted again the prism would condense into one colour of white light.

A good example is: a banana is yellow because it is an object that absorbs all colours except yellow and It is that colour of yellow that it reflected back to our human eye.
#2-How we see colour


Our eyes have many parts; the pupil, rods, cones, iris, cornea, retina and our lens. Each part has a function. And,it is the rods that let us see at night and it is the cones that help us to see in the day. The cones are really good for fine detail and light is needed; the rods are not so good with the colour or fine detail but are good for overall getting around at night. Each eye sees colour through the left and right visual fields separately; for example, the right eye is connected to vision through the left brain and yang energy or ( masculine energy) which see colours of red, yellow, blue, violet and the left eye is connected to vision through right brain and works on yin energy which is (feminine energy) the colours are orange, green, indigo, violet (colour violet is both fem./masc.) We need to see all 7 colours in our life daily to stay balanced on all levels.

#3-History of Colour
Excerpts used with permission
Colour Energy Corporation - www.colourschool.com
The history of healing with colour goes back over 5000years. The ancient Egyptians wore amulets of colured stones: red to build strength, yellow for detox, and happiness, blue to calm, and green for fertility. They used coloured glass to amplify the colour energy in the room.
The ancient science of the charkas, know to the Hindus, yogis and other cultures, relates the 7 colours of the rainbow to the 7 vital energy centers mapped out in the human body.
Great thinkers and scientists such as Newton, Goethe, Birren, Steiner, and Reich have all investigated the power of colours.
Theo Gimbel was a leader in the field of colour science. He wrote many books on colour including its influence on the phsical body, in music and in correlation to sacred geometry.
At the Dinshah Health Society, New Jersey; Darius Dinshah is continuing his father's (Dainsha Ghadali) work on Spectro-Chrome;(Chromatherapy). The society is a non-profit organization recognized as a scientific and educational corporation, which studies the effects of coloured light on the human organism.
Colour became part of the manufacturing process during the Industrial Revolution of the 1900s. The application of colour was developed to increase efficiency in industry.
Dr. Valerie Hunt, California, together with other reaseachers at UCLA, scientifically proved the existence of auras and with Kirlian Photography and was able to find physicical body imbalances portrayed in Colored energy.
Martina Gruber,Germany, invented and developed the concept of the scientific technology used in the Biopulsar Reflexograph, a biofeedback system, which measures the bioenergetics of a person up to 45 body parts and brain functions in Colour bringing aura technology a step beyond Kirlian photography. http://www.auramed.de
Inger Naess, Norway, is founder of Colour Energy Corporation and the Colour Energy Educational Systems.(CEES) This company is a leader in colour therapy wellness products and is recognized as the first international Colour therapy 3 year distance study program. http://www.colourenergy.no
Dr. George Crile,Ohio, demonstrated before the National Academy of sciences that brain tissues emit colour radiations now visable to the human eye
Dr, Peter Mandel, Germany, combined acupunture and light rays as a way to help heal his patients of physical ailments.(Colourpuncture) And this method is proven very successful and has been used for 25 years at Mandel institute of Germany; currently being practiced by other doctors throughout Europe.
#4 - 12 Ways TO GET YOUR DAILY DOSE OF COLOUR!!!!!!!!
Click here to view!
Note:
Please see our Prisma sunglasses for more colour information!
http://www.energiebrille.de